The Bryant University Journal of Interdisciplinary Studies aims to promote undergraduate scholarly work that builds bridges between various disciplines to engage with problems that no single discipline can effectively address. The journal encourages individual submissions in various forms like case-studies, scholarly research, critical reviews, original works of creative writing, visual art, and mixed-media productions. The highest objective of the Journal is that its student contributors find themselves in scholastic and creative collaboration with one another.
Current Issue: Volume 4, Issue 1 (2023)
As a space intended to both cultivate and house innovative works, The Journal of Interdisciplinary Studies continues with its fourth volume.
Article
Poetry
Visual Media
Artwork
Essays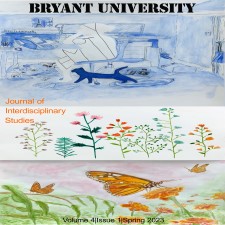 Editors
Editor

Rebecca Marcus

Cover Designers

Ed Veras Martinez and Rebecca Marcus

Faculty and Staff Collaborators

Ali Beaudette, Kristen Berkos, Stephanie Carter, Maryella Gainor, Jennifer Horan, Bryan Knapp, Qin Leng, Laura McNulty, Allison Papini, Judi Rix, Wendy Samter, Joan Zaretti
Cover Art
From top to bottom: Sarah Lostowski, "Quarantine Reflections"; Anna Sidiropoulos, "A Garden of Complementary Colors"; Sarah Lostowski, "Spring Blessings"; Bryant University students for LCS 220 Creativity and the Arts, Spring 2023.